Last-Minute Halloween Costume Ideas!
Updated: Oct 30, 2019
I don't know about you, but I still have yet to decide what I'm dressing up as for Halloween! Despite the fact that I am an avid Halloween lover, I still don't want to break the bank by buying an expensive costume that I'll only wear once. Here are a handful of super cute, and super easy costume ideas that you can achieve with the clothes you probably already have in your closet!
Velma from Scooby-Doo
Velma is hands down one of the most iconic cartoon characters of all time. The red and orange color combination alone will be a dead giveaway of what your costume is. To achieve this cute look you'll need: a red miniskirt or pants and an orange top. Finish off the look with some orange socks, red shoes, and a pair of black frames and you'll have everyone saying "Jinkies!" as you pass them by!
PC: @effyeahplussizecosplay
The Salt Girl
This is such an awesome costume idea! Everyone and their mother has seen the little salt girl at some point in time. Personally, I think this look is the easiest to create; yellow is such a great color on all skin tones, so I'm sure you already own something yellow in your closet! If not, there are several options on amazon that are under $20! To rock this look you'll need a little yellow dress, white tights, black or yellow shoes and an umbrella! For an added twist, have your partner dress up as "salt bae" and you'll be the perfect pair!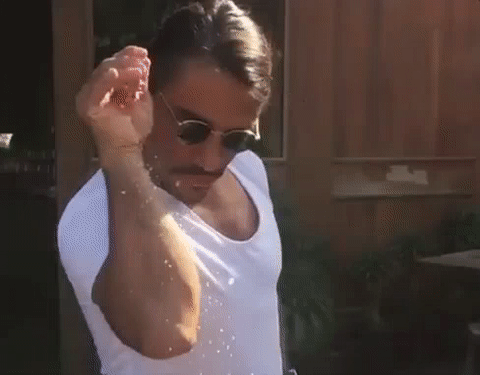 PC: baublestobubbles
Oh Deer!
When in doubt, I go with this look! It's such a cute and easy costume, that you honestly don't need to wear anything impressive with! In this photo, I wore a forest green romper (that you can't see...sorry), but really any sort of "fall-ish" outfit will do. I'll be posting a tutorial on how to do the makeup for this look, so stay tuned!
PC: FACEBYARI (me!)
Sassy Skull
Skull makeup has been all the rage for the past few years, and there's no question why! You can literally wear whatever you want, slap on this makeup, and boom! You've got yourself a pretty freaking awesome costume. The way I have styled this look is with black jeans, black combat boots, and a sheer black long sleeve shirt, and let me tell you, I looked like a snack... a spooky snack, but a snack nonetheless!
PC: Chrisspy
Tina from Bob's Burgers
I'll admit...I've never watched a single episode of Bob's Burgers, but Tina seems to be such a cool character, and a simple one to recreate! For this costume, you'll need a dark blue skirt and a light blue top. Throw on a pair of black chucks and knee socks, and you're good to go! #winning
PC: researchingtheinternet
Scarecrow
If you have a pair of overalls and a sun hat, you've already got this outfit in your closet! Just throw on a flannel or even a plain shirt (unless you want to make the look a little saucy by going shirtless!) This look is glam yet spooky which is what I like to strive for in a Halloween costume.
PC: sonjdradeluxe
Zombie
This is the easiest costume on on today's list. All you need is a pair of scissors, a red sharpie, and a big T-shirt that you don't mind ruining. Take your shirt and cut holes and slices haphazardly throughout it, and add some "blood" splatters for an added gore factor! For an even grungier look, rub some dark brown makeup on the shirt to mimic dirt stains, because after all, zombies aren't clean right? For your makeup and hair, the messier the better! Add cool contacts if you have any, and this look will come to life!...well you know what I mean
pc breannemakeupblog
Pop Art
This look is all about the makeup! Pop art is such a fun and simple way to to play with cool crazy colors that you otherwise would never touch. The main idea is to outline your features with a black line to make you look like a comic book character. Add some tears or furrowed brows for a more interesting look! You can pair your makeup with either all black or a super colorful outfit, and both will for sure make a bold statement. POW!!
PC: eeriezone
Football Fan
I may need to take back my comment about the zombie being the easiest costume on this list. A sports fan is definitely number one on the list of easy last-minute costumes. If you have a jersey and some leggings or shorts, all you need to do next is add those signature black lines across your cheeks, and you've got the look! If you want to go all out, put on a color coordinating wig and knee socks, and now you're a super sports fan! Rah! Rah! Rah! Go team Go!
PC: Shakyrah'Latrice
Wednesday Adams
Everybody loves Wednesday Adams! She's cute, quirky, a little scary, but most of all, she's lovable! To get this signature look, let's start with the hair. You'll need to part your hair down the middle, and braid two pig tales on either side. This step is a must to ace this iconic look. Next, for your makeup, you'll want to wear a dramatic blown out smokey eye accompanied by a black lip. Contour with a cool grey or black shade to get that restless look show in the picture.
PC: drew anne
Well that's it for this list GCM beauties! I hope something on here helped you settle what you'll dress as for Halloween. Like mentioned before, please stay tuned for some fun Halloween tutorials coming your way! There may be a giveaway (wink wink)